I am excited to announce my Pink Floyd tribute band Floydian Slips will return to the stage for the first time since New Year's 2019. We will be playing Portland and Eugene Oregon on January 7 and 8, 2022, doing the Dark Side of the Moon and Animals albums in their entirety along with select favorites. To get tickets, go to these links. The full press is release is below the poster art!
Portland show: https://bit.ly/3Byq0cg 
Eugene show: https://bit.ly/3FEFCxw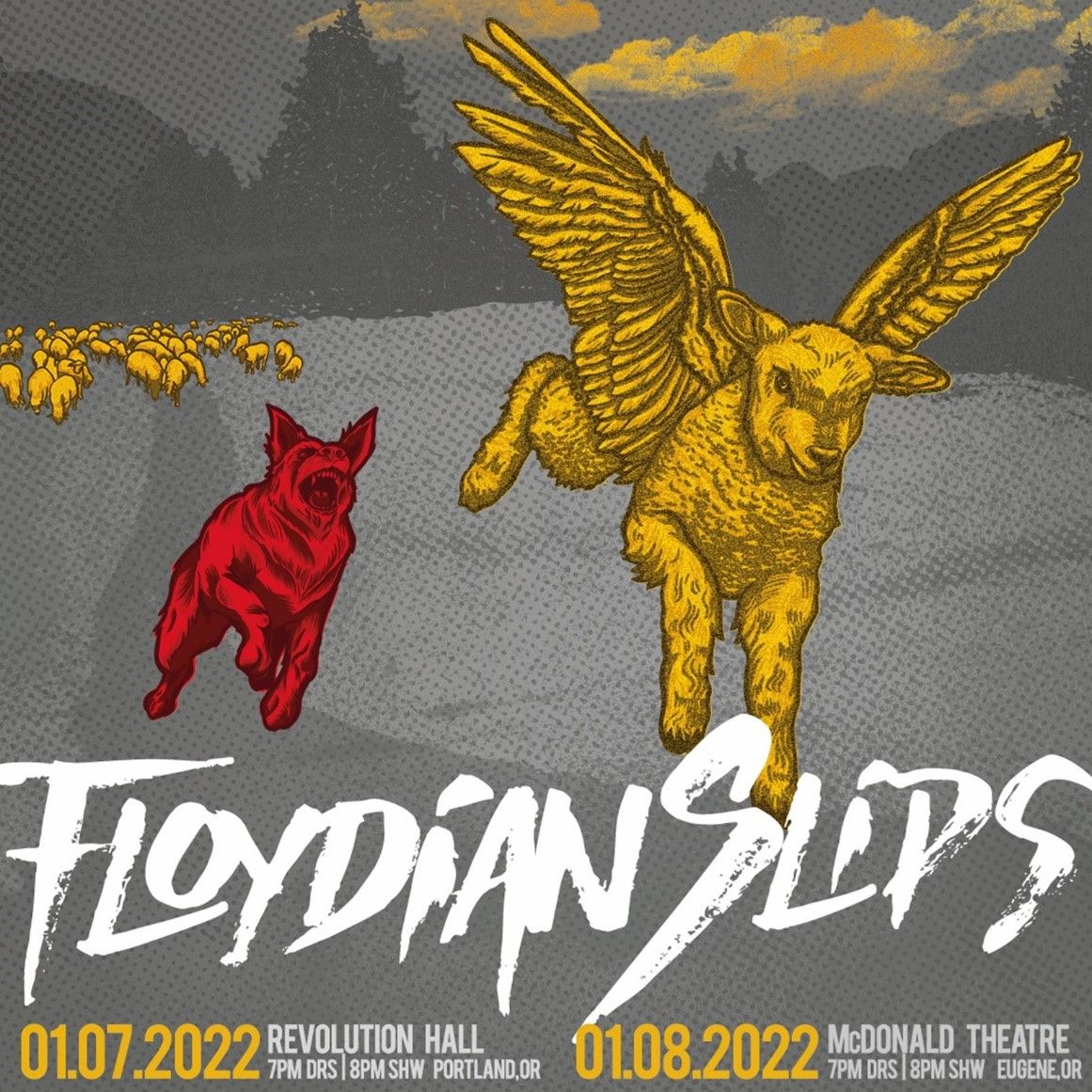 Portland, Ore. – October 15, 2021 – The northwest musical collective Floydian Slips will perform Pink Floyd songs, including two full albums, in all ages show at Revolution Hall Friday, January 7, 2022, at 8 p.m. (7 p.m. doors). The band will perform Pink Floyd's seminal Dark Side of the Moon and Animals albums in their entirety. Minors are welcome with a parent or guardian. 
Floydian Slips co-founder Paul Lesinski said, "We live in strange times and the individual has great power. Through social media, one person can start a movement. To quote a line from Animals, people are breaking away from the pack. They are taking a stand and using social platforms to share and amplify it. But when misused, this power causes great chaos and can be used to manipulate. In this context, the madness, money, and power presented in Dark Side and especially Animals is very relevant today." 
After more than 23 years of rare and singular performances, the Pacific Northwest musical collective known as Floydian Slips continues to tear through the discography of classic Pink Floyd, performing note-perfect renditions of many of the iconic hits and deep cuts composed by the British-rock band. 
The band is a collective of mainstay Portland and Eugene musicians, including Nicole Campbell (vocals); Ehren Ebbage (vocals, guitar); Ned Failing (drums, percussion); Sean Flannery, (saxophone, keyboards) Dustin Lanker (keyboards, vocals); 
Paul Lesinski (vocals, guitar); Brendan Relaford (bass); Rich Sellars (vocals, drums, percussion); and Al Toribio (lead guitar, vocals). 
Each Floydian Slips concert is different, with unique set lists and special effects, and the band moves from "greatest hits" tributes to full-length album performances depending on its collective mood. 
"Getting this group together to perform is a blast," said founding member Brendan Relaford. "Since we don't tour, and all the members of the Slips have other bands and careers in and out of the music business, when we gather to play this timeless music, it's a joyous occasion and that vibe is passed to our audience." 
Born from a one-off idea to play through Pink Floyd's classic The Dark Side Of The Moon album during a single concert in 1997, the eight-piece band has grown into a musical ensemble on a 24-year run that captures the essence of Pink Floyd, with emphatic tone placed just right where it belongs in each song. 
With spot-on vocals, perfect guitar solos, epic keyboard layers and Floydian-laid-back drum and bass grooves, the real Pink Floyd experience is enhanced during Floydian Slips concerts with unique visuals specifically designed for each show. 
The band approaches the classic music with all the curmudgeon, stoniness, swagger and attitude of the men who wrote the songs, and never fails to impress the naysayers while delivering the specific notes in the right places to please any Pink Floyd fanatic. 
Having performed The Dark Side Of The Moon, Animals and The Wall in their entirety many times, set lists have included most of the Wish You Were Here album, as well as select material from A Saucerful of Secrets, Meddle, and A Momentary Lapse of Reason, all played with great care to reproduce the original sounds and emotions of The Floyd as closely as possible.